Have you thought about Christmas yet? Well, you should! It's just around the corner, ya know! Ok, not really, but it will be here before you know it. Yes it will. Don't deny it. After reading Frugal Dad's and Being Frugal's posts on getting ready now for Christmas, I suddenly didn't feel like the only freak that has been getting ready since the end of the holidays last year. We have gifts completed for 3 of the 11 people we have to shop for and it is only July. I am quite proud of that since 2 years ago, we were stumped as to what to get everyone and we ended up spending most of our grocery money and savings on making sure everyone had a gift. Mind you, our child was 1 at the time and it wasn't very smart to do what we did, but we starved a bit and baby had to wear store-brand nappies for that month. All because we wanted, OK I wanted, to make sure everyone was impressed with the gifts we got them. I'm not very proud of that story but hey, we're all friends here, right?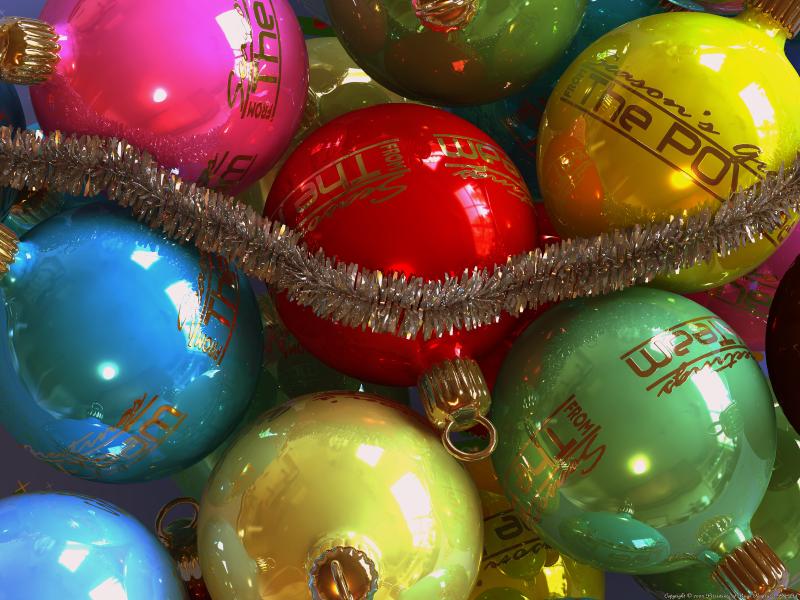 Anywhoo, I wised up within the next 2 years and learned that Hubby's family(the only people we buy Christmas gifts for) just love anything that has either been made by us, pick out by us, or has a picture of Sonny Boy on it. Seriously. That's all. We could buy all the ladies diamond earrings and give them a framed picture of the boy and they will ooh and aah over the picture for days, and weeks and months. I think I really lucked out with this family. Last year the biggest hits were the magnets I got online that had different pictures of Sonny Boy that I had taken throughout the year. They actually fought over the individual pictures that they each received, wanting the picture that the other had. Total cost for those presents? 15.00 total, 3.00 per family. The best part? I purchased them at the end of October on a site that I found that was having a 50% off sale and free shipping.
After the great Christmas we had last year, I was pumped to get started this year. I also decided to start doing this for any birthdays that we may have to encounter this year. Here is a list of all of the things we have done so far to prepare for Christmas:
Getting Ready for Christmas Early
1. Collected (and still collecting) holiday gift bags and wrapping paper. I have been keeping a lookout for clearance bags that still fit the Christmas theme: red, green, gold, white or silver.
2. Rummaged the clearance sections of stores at the mall for cool items for teens and young adults. We have 4 of these lovelies to buy for and we usually ended up just giving them money because we didn't know what to give them. I already have one teen down: I found three 3.00 Marc Ecko shirts on clearance at their expensive store at the mall near our house.
3. Stock up on the cool toiletries. This is another thing that the young adults will appreciate the most. I have been keeping an eye on the perfume or body wash sets at drugstores to grab them on clearance. I also look forward to the Bath and Body Works and Victoria's secret semi-annual sales for deep discounts on their toiletry items. I also look at places like Target for deep discounts on men's cologne packs like axe; these seem to be pretty popular with teens nowadays. Speaking of Vicky's secret….
4. Periodically check online shopping sites. I recently was told about a great deal on clearance slippers that were only 2 pair for 6.00. I was also told about some great codes that would make the shipping free. Even though I didn't save those for Christmas( used them for mother's day/birthday gifts), I was very surprised that those types of deals were available online. I've been checking out the clearance areas of online shops every 2 weeks or so, to see what kinds of deals they are posting.
5. Sign up for a money-back shopping site. Ebates is a great one to use and one that I have been using for my online deals. They pay you back a percentage of what you spend with the retailer and you can choose to get that money back in a big fat check or as a gift card for a certain store! How wonderful is that?! If you are a big online shopper, this is the way to go.
6. Check those books stores! This tip saved us last year when we had 2 people that we just couldn't figure out what to get. It was already the beginning of November and I wanted to be done with the shopping by then. We drove past a Borders and saw a sign advertising their clearance section. For around 25 dollars, we found 4 great books that the 2 family members loved. It helped that they are both avid readers, but there were quite a few other items we found there that were perfect for 2 other family members and under 15 dollars. I also had a coupon for 5 dollars off our order, so for 35 dollars we completed our shopping and could relax the rest of the holiday season. Book stores also have quite a few collectible items, travel games and full size board games and many other trinkets. It was a great place to find out-of-the-norm Christmas gifts.
7. Don't under-estimate a great picture. Like I mentioned before, pictures really do make a difference. There are so many ways to make it memorable, whether its finally taking that family photo(which will be part of our Christmas gifts this year), chronicling the past year through photos or just creating a calender for everyone with your favorite pictures on it. This is one of the easiest things to do but makes the most impact. My best tip: Start to order early! If you already have a few pictures that you love from this year, go online and look for sites that can change them into DVDs, cool effects, calenders, magnets or even just enlarge it to put a greater emphasis on the photo. You CVS shoppers out there are lucky: this chain often has great deals on photo processing and cool ideas like photo books and photo DVDs. Begin to take advantage of these finds now so you won't be stressing later.
8. Don't forget to save. We are lucky enough to have an ING sub-account that I developed for us to put 20 dollars a month into it. Whenever I find something that is Christmas-worthy, I save the receipt, and every 3 months (end of march, end of June, and end of September) I tally up the amount spent on the gifts and move it back into our checking. I am hoping to be done with shopping by the end of September so these "reverse deposits" should be done by then, leaving us Christmas money to play with next year.
9. Don't forget about the groceries! If you are the family that has everyone over for dinner during the holidays, then this tip is definitely for you. Starting now(yes, today or the next time you go to the grocery store), add a 10 dollar gift card to your transaction. I have been doing it at the end of every month, but if you will be having quite a few people over, you may want to do this every 2 weeks until holiday time. Why do this? Think about it: You have all of your gifts taken care of, and a good stockpile of essentials but you still have to get that turkey, or ham or 5 cans of fried onions, or those fresh green beans, yada yada. Imagine, just imagine, if the "sale" price for these things aren't as lucrative as you thought they would be. Then you look in your account and see that you only have 20 bucks in you checking. And you have 30 people coming to chow down in less than 3 days. Got it now? It's an insurance policy. I'm a big baker during the holidays and it definitely takes a toll on you grocery budget if you're not careful. But, here's the kicker: if you don't end up using all of those lovely cards for the holidays, you can treat yourself and your budget to a free grocery transaction or two, courtesy of your teeny tiny savings plan. if you can't do 10 dollars, do 5. Every little bit helps and you will be surprised how much of a difference it will make
So that's my list. Hopefully, you got something out of it. I sure did! This is the first time I have actually written this down and not had it swimming in my head. My brain feels lighter. I feel like I just went on a thinking diet. I know, I know, I'm a weird bird.
So, what have you all been doing to get ready for the holidays? *puts elbows on table and head in hands* please…..do tell :o)