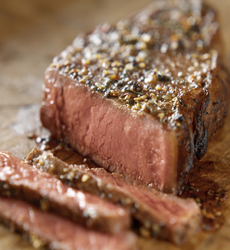 Whether you're a lovable beef eater or only one when the sale is right, we can all agree that summer brings about beef in grocery stores to an obscene level. With all of the grilling holidays, including Father's day, popping up, it's understandable that the stores increase their bovine inventory.  The best part about this for us? More clearance meats!  Because they butcher the whole cow, we see sales on grilling parts but also deep discounts on cuts that we usually won't use in the summer.  This can be a great stock up time for those of us that are able to stockpile within our freezers (I'm not one of them, but I do what I can). Here are a few things we can do to get the best savings and not feel overwhelmed by cuts we've never used:

1. Find out what store in your area has the best mark downs  
If you are lucky enough to have a few competitive grocery stores in your area, you will definitely find that one or two of them have a routine mark down on their meats and produce. These mark downs are usually on items that need to be sold that day or the next, so you'll have to make sure you get them home, wrapped up and placed in the freezer ASAP.  But other than the sell-by date, it is still quality meat. If you still aren't sure if your store does mark downs (they do, but you may not have been lucky enough to catch them), ask the meat department or the customer service desk when mark downs happen for their store. And make sure you're there on those days!

2. Don't be afraid of cuts you've never used
I think this is one of the biggest mistakes any shopper makes when looking in the meat area of the stores. There may be a good price on a cut of meat, but you just can't fathom how to even start to cook it.  Don't fret! Now that we have the internet, it makes cooking so much easier.  Beef even has it's own website and there is a wallet card you can print out to take with you to the stores to see exactly how to cook a cut.  The website even has a few recipes and tips on how take care of those cheap cuts.

3. Believe in the slow cooker
I do love to use our slow cooker in the winter, but in the summer, it becomes the king of our house. Besides the fact that we seem to be running around more in the summer, it's just so much easier and cooler to use the slow cooker during those hot 3 months. I also love to pair up the mark down meats with the mark down veggies that I find at the store by creating "meal kits" right in the freezer for days when I feel extra rushed. Marked down cube steak together with cut up discount onion and peppers makes instant swiss steak for us to eat. Add in some rice made in the rice maker, and my kitchen stays clean and cool.

Have you ever been lucky to find some mark down meats? Ever been afraid to try out a cheap new cut?