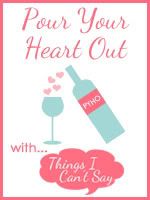 I have one of those names.
The ones that you see on paper and think that it looks unusual, exotic and all around pretty.
The ones that you try to pronounce but mess up almost every time.
The ones that just might have a wonderful meaning, if only you had enough guts to ask what that meaning was.
Yup, I have one of those names.
One of my many "anonymous" readers left a cute comment about how they wonder all the time how to pronounce my first name. Amiyrah is one of those brandings that you may be leery to put on a young girl. She'll have to learn early to defend her name, the way it's said and the meaning behind. You have to have cojones to carry around this one. I've grown a pair over the years.
I'm sure my dear Dad didn't realize what he was doing when he gave me the name. Because of my parents' Muslim background, he was drawn to Arabic names as soon as they found out I was going to be a girl. The meaning, Princess, also drew him in further. Not to mention that he found an equally hard to pronounce middle name with the meaning "of light." Princess of Light. Yup, that's me.
It's the pronunciation that kills it.
A-mure-ah
Ah-my-rah
Amy-are-rah
Nope Nope Nope.
Amiyrah = Ah-mee-rah
Amiyrah also = A-mirr-ah (like a mirror but an a at the end)
It all depends on your dialect. It also depends if I get tired of telling you it's Ah-mee-rah and let you say the "wrong" way. Please don't blame it on laziness. It's the cojones. And yes, it's because I have one of those names.